Article 3355 : Circuito Remolino


Released for 1972, the Circuito Remolino was called the "Highwinder Set" in the domestic market.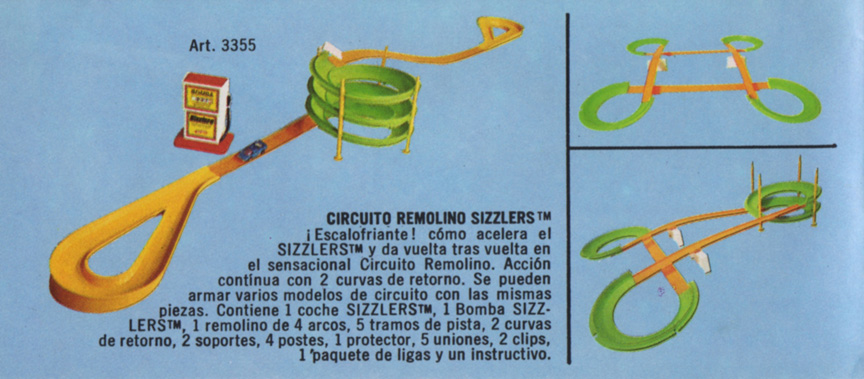 1972 Catalog Image

"Spine Chilling!"
"As the Sizzler accelerates lap after lap in the sensational Swirl Track!
Continuous action with two return curves. You can form several track configurations with the same parts.

"Contains 1 Sizzler car, 1 Juice Machine, 1 swirl track with four circles, 5 sections of track, 2 return
curves, 2 trestles, 4 posts, 1 protector, 5 joiners, 2 clips and a packet of rubber bands and Instructions."


Comments

At least one example of a set in the the original package is known.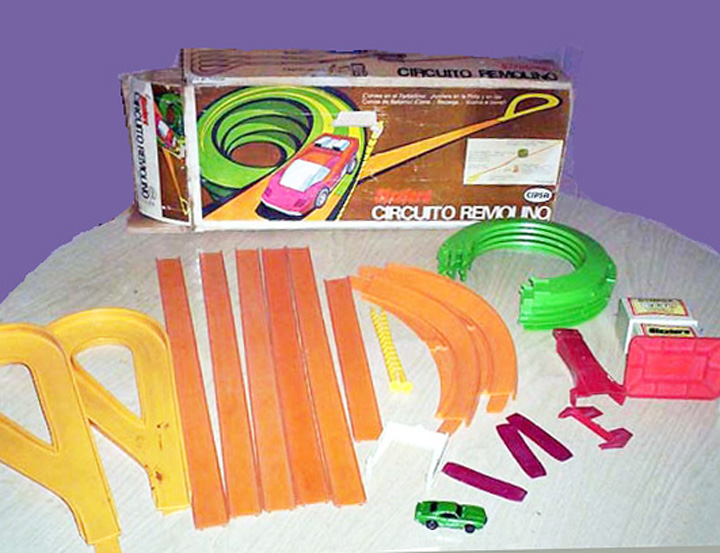 Surviving Circuito Remolino Set

Although showing an original box, some parts are form other sets and some parts are missing.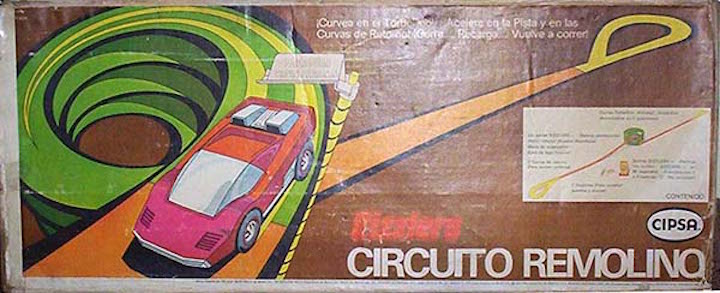 Box Front

The front artwork features the Straight Scoop on the track.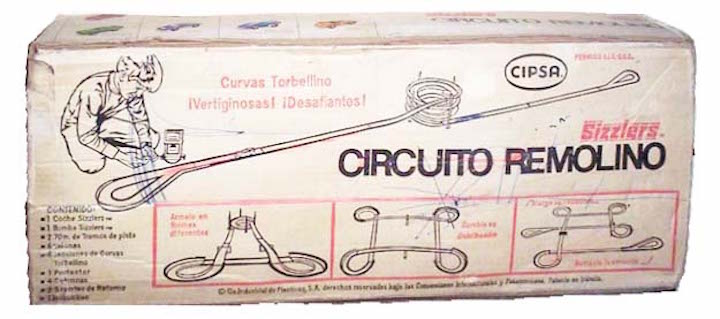 Rear Artwork

The artwork features different possible track layouts.






The 8 Sizzlers Models Available in 1972

Four of these were shown in the 1971 catalog, Angeleno M70, Ford Mk IV, Sideburn and Live Wire.
The other four, the Mustang Boss 302, Firebird Trans-Am, Hot Head and Straight Scoop are 1972 releases.
This side panel confirms that CIPSA continued to produce the 1971 models as part of the 1972 product line.







---



* DISCLAIMER *
Private use of original images is allowed.
Non-profit, non-commercial publication of original images is allowed only with prior expressed written consent from CIPSACARS.COM.
For other commercial, for-profit or redistribution needs, please contact the site owner. This site is not affiliated with Mattel, Inc.

Questions? ... Send me an e-mail: tngray@nautiloid.net

© 2018 by TNGray. All Rights Reserved.